Whether you own a restaurant or manage a bar, you know that you have to go above and beyond to stand out from the crowd. You've already created delicious dishes and tempting cocktails and found a theme or atmosphere that welcomes people inside. Now it's time to focus on the details that will really welcome new customers and encourage them to come back again and again. Simple Snap Frame is here to help! Our easy-to-use and easy-to-install front-loading frames add quality to any framed display, and our illuminated snap frames in particular are a great choice for bars and restaurants. Continue reading to learn more about how to make the most of our LED snap frames and call Simple Snap Frame today for a free custom quote!
Draw Attention
A lighted menu display is a great way to grab the attention of potential customers! With dozens of custom options from Simple Snap Frame, you can find an illuminated snap frame to match the theme and atmosphere of your business, and the LED glow will make your display stand out from the rest. Choose from solid colors, metallics, or wood grains, and order the exact dimensions you need for your menu or signage from the Simple Snap Frame team for a LED display your customers won't soon forget!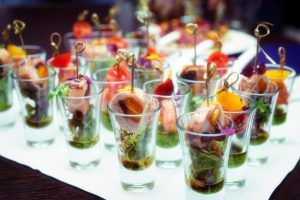 Light Up Your Specials
You and your staff work hard to showcase fun new dishes or chef-inspired concoctions, and what better way to do it than listing your weekly favorites on an LED menu board? It's a great way to peak your customers' curiosity, and the versatility of our illuminated snap frames gives you the opportunity to flex your creativity. Tweak the design of your menu insert at any time and swap it out for a new series of specials whenever you need with just a few clicks. Our front-loading frame makes it easy to keep your menu display fun and up-to-date, and you can even add more fun effects by drawing directly on the glass!
Add An Easy-To-Read Menu Display
Many bars and restaurants dim the lights for a cozy, more intimate atmosphere. It can help your customers slow down and relax, but it can also make it hard to read all the menu options you and your staff has worked so hard to curate. An illuminated snap frame offers an easy solution, with LED backlighting that will brighten whatever insert you slip behind the glass. Post your lighted menu board outside to draw in passerbys after dark or keep it posted inside your restaurant for customers to browse without straining their eyes or interrupting the ambiance.
Make Your Decor Pop
Every restaurant needs a unique theme or aesthetic in order to set them apart from every other pub or burger joint. Simple Snap Frame can help you take your interior design to the next level. Use our illuminated snap frames to bring movie posters, landscapes, and other decorating elements to life. The LED lighting can help each piece feel like a window to another world, creating an intriguing effect that your customers aren't likely to see anywhere else.
Order Your Custom LED Menu Boards Today
Interested in adding something new and unique to your restaurant or bar? Invest in illuminated snap frames from Simple Snap Frame. Our team will work with you to create a framed display that meets your needs, and you can choose the frame color, finish, and dimensions that work best for your business. Whether you want to help your carefully curated menu stand out in the cozy, dimly lit atmosphere, or you want to bring life to your design choices, our versatile front-loading frames can help make it happen. Change the display at any time with our easy, click-in borders and make your restaurant or bar unforgettable with your own creative touches. Call Simple Snap Frame today to begin your custom order and get a free, fast quote online now!