Professionalism in the workplace extends far past employee behavior. A clean and orderly looking hospital can do much to ease your patients' minds, which can help to make them feel like they are in good hands. There is, however, an aspect of cleanliness that many hospitals around the country fail to recognize. If you have recently been to a hospital near you, you have probably noticed that some of the hospital's signage appears to be hung as a temporary means of communication. This can make your establishment look cluttered and unorganized, causing individuals to question the legitimacy and capabilities of your hospital.
During this article, we will dive deeper into the many reasons why temporary signage can be detrimental to not only how your hospital appears, but how it runs as a whole. Many hospitals around the country waste paper and other costly resources by printing unnecessary signage that is usually torn down just days later. Instead of using an excessive amount of paper when creating signs to post around your hospital, consider installing Simple Snap Frames around your hospital's hallways and rooms. We've supplied hospitals around the world with a practical solution for hanging signage since 1992. Learn more on why temporary signs can turn your hospital into an eyesore by reading below.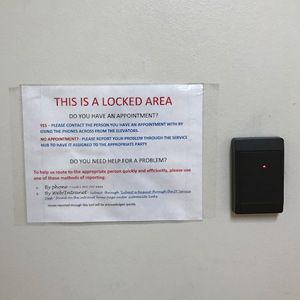 Tape Looks Tacky
Many people who work in hospitals simply use scotch tape when hanging signs throughout hallways, which often looks unprofessional and tacky. Not only does temporarily hung signage detract from the overall aesthetic qualities of your hospital, it can also cause patients undue stress. According to the National Center for Biotechnology Information, "Patient-friendly signage is important to increase satisfaction and contribute to a positive experience. Confusing signs can lead to increased stress, physical discomfort, and dissatisfaction with the healthcare system. Additionally, a difficulty in navigating the hospital adds to anxiety resulting in increased staff burden."
Not only is scotch tape off-putting when it is used to hang signs around your hospital, it can also discolor over a short period of time, causing your signs to look extremely dated and dirty. This is just one of the many reasons Simple Snap Frame can help to give a uniform look and feel for your hospital's signage.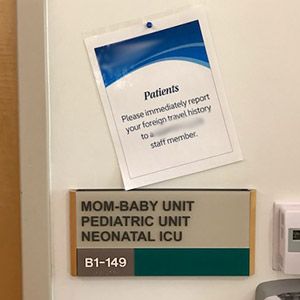 Crooked, Unprofessional Signage
When hanging signs using tape, you can never truly be sure that they are hung straight. Since hospitals can be hectic for both doctors and nurses alike, there is rarely any downtime to complete additional tasks that require a precise attention to detail. This can cause unrelated necessities to be completed with haste, diminishing the quality and effectiveness of the sign that is hung.
Simple Snap Frames are unique in that they can be permanently placed on your wall of choice with extreme precision. Both patients and guests will love that your signage is easily recognizable and hung with intent. In fact, in the same study conducted by the Orthopaedic and Plastics Center at the North York General Hospital, it was concluded that, "improving signage significantly enhanced patient experience and reduced stress levels." When guests of patients become distressed easily, they often transfer their stress onto hospital employees, which creates a cyclical environment of never-ending conflict. By using a Simple Snap Frame while posting signage around your hospital, you can be sure that you can reduce the levels of stress experienced by guests, patients, and employees.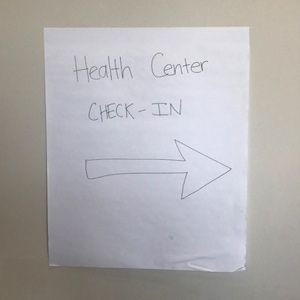 Prevent People from Writing On Your Signs
The picture below is a glaring example of why you would want a frame to house your hospital's signage. Handwritten signs lack legitimacy and could have been written by anyone. Furthermore, by posting handwritten signs around your hospital, you are essentially giving others the opportunity to deface your signage or write illegitimate information on the sign in question.
Not only do handwritten signs look extremely unprofessional, they also may not provide sufficient information to your patients and guests. Since handwritten signs are usually created under limited time constraints, there may be important details that are omitted completely due to an underlying sense of urgency by the employee. Pairing a lack of sufficient information with an employee who may not have the best handwriting can cause confusion and time lost by other employees who may have to clarify the intent of the sign to visitors.
Temporary Signs Fall To the Ground
When temporary signs are hung using scotch tape, they can quickly begin to either hang from one side or fall to the ground completely. Falling signs can be disruptive to a hospital's workflow, as there is almost always something that you can be doing to help your patients. Having to constantly rehang signs not only wastes tape, it also wastes time and can be confusing for guests if not fixed immediately.
If your hospital's staff is burdened by having to constantly rehang signs that have fallen to the ground, you could benefit significantly from equipping your hospital with Snap Frames from Simple Snap Frame. Not only will your signage never fall to the ground again, you will be able to convey any message you desire with ease. Contact our staff today for more information!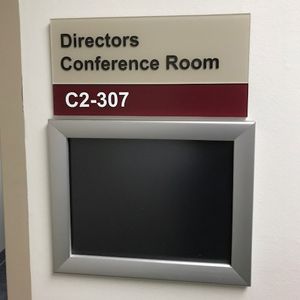 Add Professionalism with Simple Snap Frame
Not only do we provide the highest quality insert frames to hospitals around the world, Simple Snap Frame even offers custom frame inserts that can be displayed in each of your patients' rooms. These inserts can help increase the efficiency of your employee's workflow while changing how your hospital operates as a whole. By preventing temporary signage from being hung around your hospital, you can eliminate any worries of signs falling throughout the day while achieving visitor satisfaction with clearly written and concise signage.
From patient room whiteboards to low-profile framing, Simple Snap Frame's online store offers the products you will need to ensure that your hospital maintains a consistent level of professionalism while making it easy for both visitors and patients to navigate throughout the hallways and corridors of your hospital.
If you are ready to change the way you hang signage around your hospital, get in touch with the signage experts at Simple Snap Frame. In our effort to accommodate the varying needs of our customers, we make it easy for you to request a custom-volume order quote! Simply visit our quote request page and then provide your details to receive a timely response from one of our staff members! We are confident that you will be satisfied with our high-quality Snap Frames that were all designed, fabricated, and produced in the United States of America. Improve the aesthetics of your hospital today by getting in touch with Simple Snap Frame!