Using professional signage can make or break how customers view the legitimacy of your business. Poorly hung signs have the tendency to look unprofessional and may even fall to the floor throughout the day. We previously talked about the importance of maintaining professionalism in hospitals, but today, we will talk about a few different types of businesses that can benefit from using Simple Snap Frame in their establishment.
Simple Snap Frame is the leading provider of low-profile frames, snap frames, and many other intuitive frames designed to make changing sign inserts a breeze. All of our custom frames are designed and fabricated in the United States, ensuring quality construction with every frame ordered. Not only do we provide our customers with the highest level of customer service, we even offer free quotes for high-volume orders. To learn which types of establishments can benefit most from using Simple Snap Frame's custom insert frames, continue reading more below.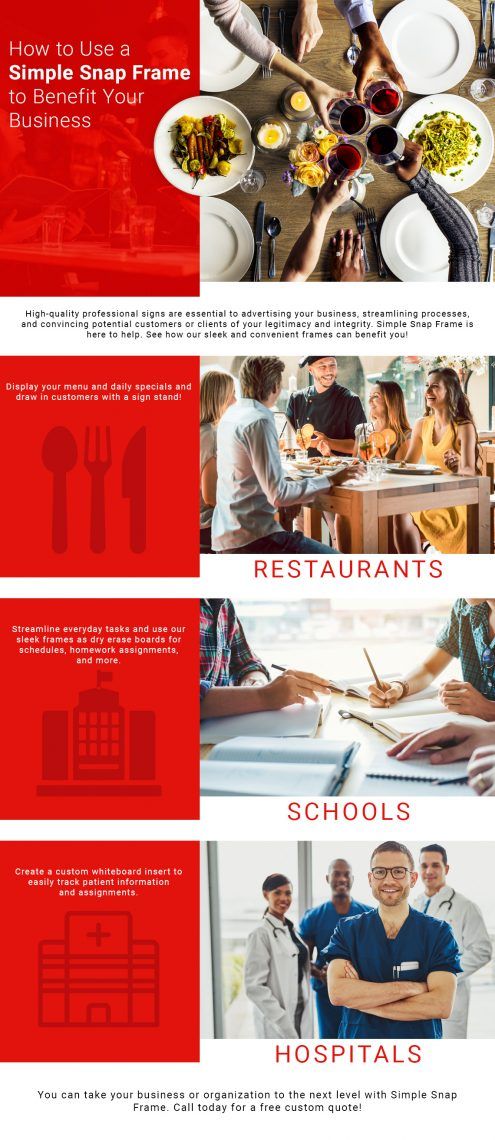 Restaurants
Filling up your restaurant with eager guests by offering daily specials is an easy way to boost sales and increase your restaurant's awareness. While many passing by your establishment may take notice of your restaurant, piquing their curiosity by placing your menu outside is a great way to attract customers. Luckily, Simple Snap Frame's custom sign holder is fit for the job. Available in several different sizes, our sign stand is designed to withstand windy days, rainy nights, and everything in between. Grow your restaurant's customer base today by receiving your free sign stand estimate from Simple Snap Frame!
Schools
Elementary schools frequently build out daily schedules for their students to make conducting class much easier. With Simple Snap Frame, teachers can easily use our whiteboard snap frames to outline daily curricula, list homework assignments, and so much more. This can help to increase classroom teaching efficiencies while maintaining a clean and organized schedule. We even work with customers if they need a custom insert created for their specific needs. Custom snap frames also allow users to make changes seamlessly to their insert without having to remove their frame from the wall.
Hospitals
Patient whiteboards from Simple Snap Frame make tracking patient info effortless thanks to our acrylic whiteboard inserts. We even offer custom inserts with useful features such as a patient pain scale, room and doctor details, as well as a section for patient information. While we currently offer basic whiteboard inserts, we can also work with your hospital in designing custom inserts to accommodate your hospital's needs.
These are just a few of the many industries Simple Snap Frame continues to serve daily. Our team of professionals are always willing to work with your business to help you find the perfect custom snap frame and price point for your needs. If you would like to learn more about any of our products, have questions or concerns, or would simply like to receive a free price quote for a custom order, simply contact our team at Simple Snap Frame today. We look forward to working with you!