To you, the hospital is just your workplace – your home away from home on many days and late nights – but to your patients, it's a stressful, unfamiliar place. There is a lot happening at any given moment and likely many things about their own reasons for being there that they don't completely understand. It can add stress to what is probably an already stressful or upsetting situation, which is why you work hard to make them feel as comfortable as possible.
One strategy for helping patients be more at ease is to help answer their questions and give them the information they need. Knowledge is power, after all, and it can help them feel more in control of their situation. You or other members of your team may not have the time to give the answers your patients seek face-to-face, but luckily, there is another way that you help them stay informed. Simple Snap Frame offers custom dry erase boards and snap frames that are easy to use and easy to change, with a variety of snap frame inserts offered here on our site in addition to the endless possibilities offered by our simple, front-loading frames. Continue reading to learn how our frame displays can help you and your patients and call us today to get a quote on your custom snap frames!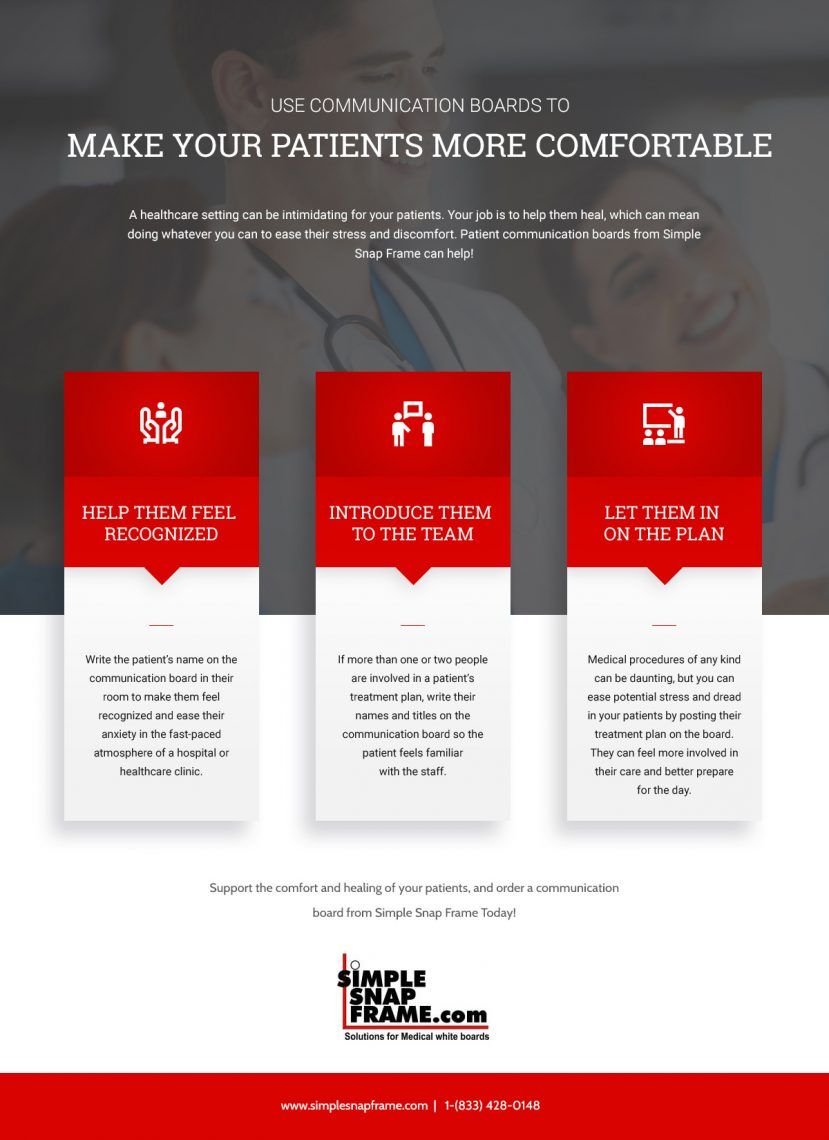 Help Them Feel Recognized
Hospital staff may be reading from charts with the patient's name written right at the top, but the fast-paced atmosphere and a few less bedside-friendly employees can quickly make your patient feel like a John Smith or a Jane Doe. Reassure them that they are in the right place at the right time with a customizable whiteboard. Having a communication board with their name and information on it in their room can help reassure anxious patients that they haven't been forgotten or overlooked. There is a lot of information and educational material scattered throughout hospitals and doctors' offices, but customizing it for your patient can help them feel calm and confident in the level of care they will receive.
Introduce Them To The Team
Medical procedures and appointments can be confusing even without a team of multiple people, but if the patient is interacting with more than just a single doctor and nurse, it can get overwhelming. At some point during your meeting or procedure, you and your staff are likely to introduce themselves to the patient anyway. However, no one expects them to be able to remember every name and face, and it's unlikely that you will have time for a proper introduction.
There is a better way to help your patient feel more comfortable working with a team — listing the names and positions of that day's major players somewhere they can see. Listing the patient's name and the current date is not the only use you can find in a patient communication board from Simple Snap Frame. Listing the doctors, nurses, and technicians the patient will interact with directly can help them feel more prepared and more comfortable for what the day will bring, and they or their visitors can review it if they need to speak to someone — without having to memorize everyone's name.
Let Them In On The Plan
Another way to help your patient feel more in control is to give them information on what will be happening that day. A communication board is the perfect place to lay out the procedures or examinations that have been scheduled. Even better? Writing down the estimated times those procedures will take place and when the results can be expected. The patient will have something to refer to if they have questions or are unclear on what they will be undergoing, and then you can spend your valuable face-to-face time answer more pertinent, focused questions.
Order a Custom Communication Board Today
Your hospital's number one goal is to help your patients feel better. That means not only diagnosing and treating physical problems, but also trying to address mental and emotional distress. Use a custom dry erase board to give your patient the information they want and need and help put them at ease. Acknowledging them as an individual is an important first step, and addressing their desire to know what's happening, when, and who will be involved is a great way to assuage some anxiety and improve their mental state.
Whether you work in the ICU or the maternity ward, Simple Snap Frame can create a communication board that works for you. Our snap frames easily snap open and closed and you can customize the size of the frame as well as the insert that goes inside. Want to learn more about the options we offer for hospital whiteboards? Contact a member of the Simple Snap Frame team today or use our simple online form to get a fast custom quote! We look forward to working with you.