Whiteboards are important tools in your hospital. There's a reason that they're still so commonly used even though our culture has largely automated processes or started using electronic organizational methods, and this is because hospital whiteboards are both effective and easy to use. In this post, we'll discuss some ways to use whiteboards in your hospital space so you can maximize their functionality. If you're searching for a custom whiteboard for your hospital or medical facility, look no further than Simple Snap Frame. We'll work with you to create a custom insert that can be placed into one of our high-quality, well-made frames. Whatever vision you have for your hospital whiteboard, Simple Snap Frame can help. Call now!
Maternity Wards
This section of the hospital is constantly in transition and in responsible for your facility's smallest patients. It's important to keep the details carefully organized so that new parents, doting families, and excited friends will always be well informed. You can create a custom hospital whiteboard to display information such as:
Baby and parent names
Feeding times
Care information
Important details about baby and mother
Any medications or treatments that the baby or mother is receiving
New parents will also appreciate basic information, such as how often the baby should be fed, when his or her last diaper change was, or any important concerns to look out for or be aware of.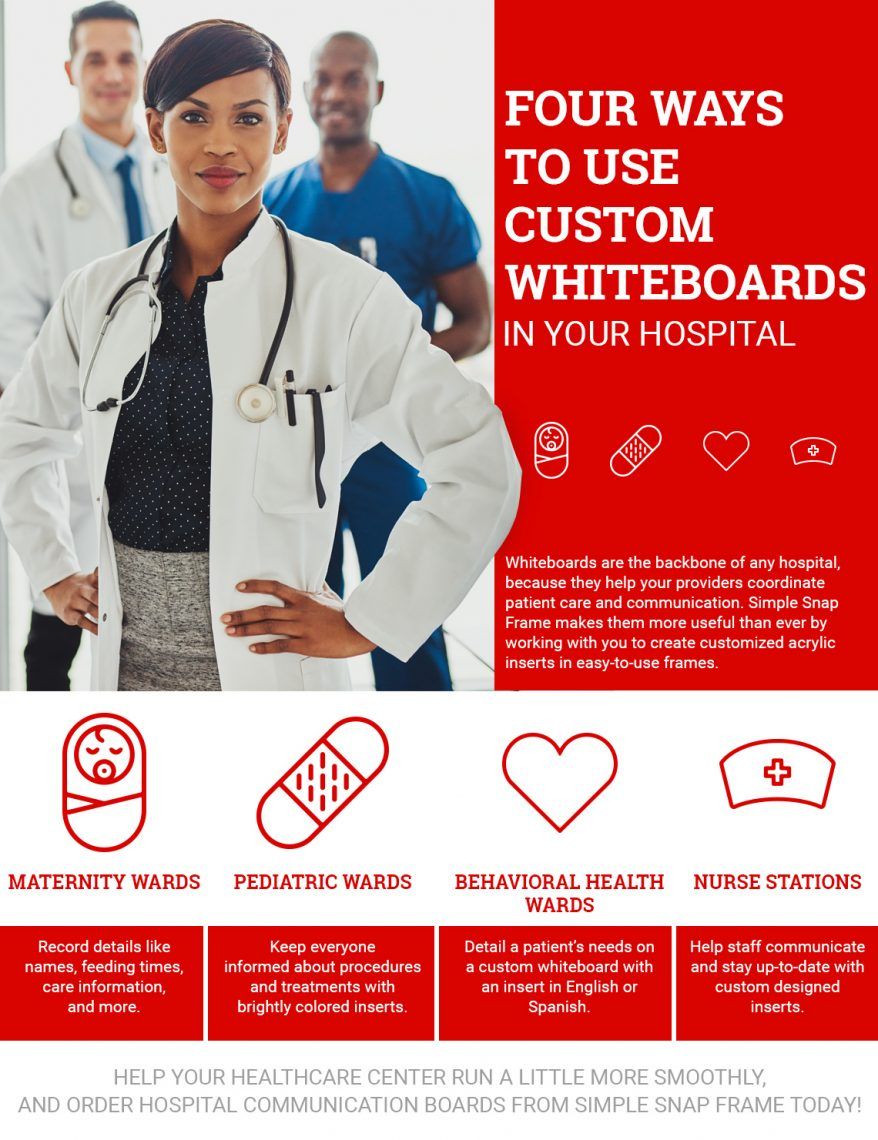 Why Whiteboards Are Important For Patients
Hospitals are extremely confusing for patients and their families. Instead of family members trying to get a busy nurse's attention, they can simply look at the hospital whiteboard and know when the last time their loved one received treatment or underwent a procedure, when the next one is scheduled, the name of the nurse on duty, and the primary doctor's name and hours. Writing this information down on the whiteboard will help the patient feel heard and cared for, and the family members will be able to add to any information that is required or needed for the patient's care. The patient can even add information that is needed but he or she didn't have or couldn't remember.
Pediatric Wards
With Simple Snap Frame's many options for brightly-colored frames and custom inserts, you'll be able to complement the decor of your pediatrics ward. Patients and their families will appreciate being informed about important upcoming procedures and treatments. Any nurse, doctor, surgeon, or healthcare professional can use this whiteboard to write notes and directions for nutrition or medication so everyone who is taking care of the patient will know their healthcare plan.
Behavioral Health
One of the best places in a hospital to place a whiteboard is the mental or behavioral health ward. There, it will seriously benefit both the patient and the doctor. If there are important needs or treatment methods that are designed specifically for a patient, they can be detailed on the whiteboard. Also, since the insert is easily customizable and available in both English and Spanish, Simple Snap Frame will work with you to create the ideal insert for any behavioral health ward.
Nurse Stations
Every nurse appreciates a large whiteboard with easily-readable information that can be updated as needed. Of course, you can choose whichever color and design of the snap frame to complement the other hospital decor, and use one of our stock insert designs or make your own. You can also have multiple inserts designed for different nursing needs so everyone will be satisfied. An easy-to-use whiteboard will help your nurses know exactly how to take care of their patients and keep doctors informed as well.
At Simple Snap Frame, we're proud to create custom hospital whiteboards every day for our customers. If you're ready to get started, call our helpful team or fill out our form to get a free quote!