Bars can offer a quiet place to enjoy your favorite liquor on the rocks or they can be wild, messy, loud places to let loose and have fun with your friends. Whether your bar falls into one category or the other or somewhere in between, snap frames from Simple Snap Frame offer an upgrade for your customers' experience and your experience as an owner. In today's blog, we'll be talking about how you can utilize our simple, front-loading frames in your establishment. Read on for ideas and inspiration and call Simple Snap Frame today to start your custom order!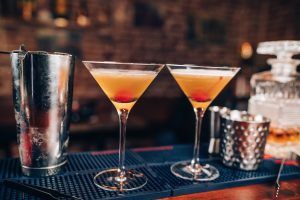 Drink Specials
One thing you can expect in almost every bar is a display of drink specials. Whether it's a crisp menu or a glow-in-the-dark blackboard, there are a hundred ways to advertise your bar's best deals of the night. Simple Snap Frame can make showing off your specials even easier with our broad selection of framed displays. Use our LED snap frame to help your specials shine in the dimly lit atmosphere of your establishment or to advertise to passerbys outside throughout the night. You can also choose our classic snap frame for a sleek, easy way to protect a paper menu or use it as a custom dry-erase board and give your most artistic bartenders creative freedom to grab the attention of your customers. Whatever you need, the team here at Simple Snap Frame can help you find a solution. Call today to find out more about what we have to offer!
Art And Decor
One of the most important aspects of any bar is the atmosphere. Your customers should enjoy the time they spend under your roof, and the art and decor you choose can go a long way toward creating a theme or style they can enjoy. Whether you want to keep it classic or you're building your aesthetic around a theme, Simple Snap Frame can help you display your decor in style. Our products serve as great changeable artwork frames or poster holders to keep things neat and the strong frames and acrylic inserts can protect your posters or art prints from damage or spills. You even have the opportunity to customize the color, finish, and dimensions of your frame so you can ensure it fits perfectly with your style.
Required Notices
As any restaurant or bar owner knows, there are more than a few notices you're required to post around your establishment. From your liquor license to permits and health inspection results, there are plenty of papers you need to display in order to stay in compliance and stay in business. Keep these notices clean, clearly visible, and safe with a snap frame. They are far more effective than tape or staples at making sure each notice stays in place, and they can prevent accidents or tampering from affecting the flimsy paper you're given to display. Small or large, bright or subtle, the team here at Simple Snap Frame can help you find what you need from our inventory or work with you to create a custom solution.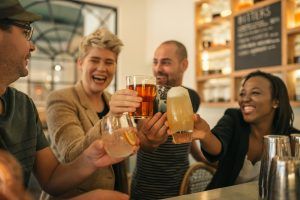 Taxi Information
At a bar – especially a good one – chances are good that not everyone will be able to drive themselves home. Make it easier for your patrons to stay safe by clearly posting information about local taxi services and apps. There are several things you can add for your customers' benefit, too, including tips for safe ridesharing practices or information on nearby parking policies. Not everyone will drink responsibly, but with the right snap frame and informative insert, you can encourage your patrons to make the right decisions.
Advertising
From loyal customers to curious out-of-town visitors, your bar draws a lot of people, which makes your establishment an ideal place to advertise local events, other businesses, and more. Spread the word about concerts or specials at your locale or at nearby establishments with a sleek front-loading frame from Simple Snap Frame. We offer an easy, no-fuss way to display posters and flyers. Forget messy cork boards that are easily damaged or altered and order a snap frame in whatever size and style you need. It offers more security than push pins without sacrificing simplicity. When it's time to start advertising for the next event, just unsnap the frame and swap out the insert.
Order Your Custom Snap Frames Today
Running a bar can be chaotic. Make one part of your job easier and simplify displaying notices, specials, and event advertisements with a custom snap frame. The Simple Snap Frame design team can create exactly what you need, whether you want a poster holder in a bright color, a menu display with a classic oak finish, or a small frame in subtle silver or black. Explore our site to see all that we have to offer, keep reading our blog for more ideas and inspiration, and contact Simple Snap Frame today to begin your custom order!