When children have to stay in the hospital, it can be difficult to make the room welcoming. You want your facility to convey cleanliness and inspire confidence in parents, but a sterile-looking environment can make kids nervous, especially when they have to stay overnight. At Simple Snap Frame, we understand the need for hospitals to maintain a professional appearance as well as their desire to help children feel at ease throughout their treatments.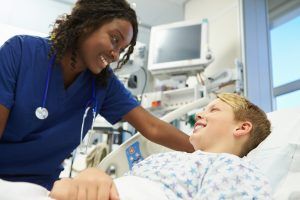 Simple Upgrades
While it may not seem like much, adding bright and bold colors to a room can make the area feel more inviting, especially to younger kids. Our snap frames are available in many different color options, so you'll be able to customize the room's look with ease.
Custom Inserts
Getting kids to interact with your staff can help reduce their stress levels during treatment. Our custom inserts are a perfect way to encourage them to participate. Consider creating a "How I'm Feeling" insert where kids can help identify their aches and pains.
To help parents stay updated on the staff treating their children, Simple Snap Frame can design a custom insert in bright colors where you can list names, treatment protocols, allergies, and other pertinent information. Combine the insert with our high-quality dry-erase acrylic insert, and you'll have an eye-catching display that you can use again and again.
Easy to Update
Our frames are designed to be easy to use and make updating insert a breeze. Why settle for plain old charts in your children's facility? Let Simple Snap Frame create a custom insert so you can show a flair of creativity and color! If you need to remove the insert, it's as simple as opening the sides of the frame. No need to remove the setup from the wall and rehang it!
Let us help you create a bright and colorful child's treatment area. Simple Snap Frame is here to help!