Uncategorized
There are a lot of factors contributing to your success as a business and the efficacy of your team. Especially in the business of running a restaurant or bar, you need to stand out, and creating effective signage is an important element of that. Whether you're advertising your menu outside or showing off happy hour specials indoors, there are a few key design elements that can make your signage more appealing and effective. Read on to learn the four keys to better advertising, and get started today with a custom framing quote from Simple Snap Frame!
1. Crisp Text
One of the most important steps you need to take toward better signage is choosing a clear, readable typeface. Fonts that mimic cursive, for example, are more difficult to read and will take passersby more time to translate. Those fonts are not a good choice for the menu in your outdoors framed display or the list of specials you want customers to be able to read from the other side of the bar. Instead, choose a typeface that is simple and clear, without many flourishes.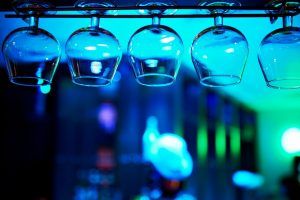 2. Contrasting Colors
The next choice you need to make is the colors you use. You want your logo or message to stand out from the background, and that requires you to choose your colors carefully. If you read our series on color theory, you may remember that we listed a few options for harmonious color combinations — even pairings from opposite sides of the color wheel aren't necessarily a strong enough contrast for clear and effective signage!
Concentrate on light and dark — if your sign is printed on white paper, use black type or dark colors. If your logo is printed with pale colors, then make sure you contrast it against a dark background. When it comes to the framed display for your sign, you have more options, but you should always be thinking about contrast! Bright colors like red, white, and gold will stand out against the blues and greens of the outdoors or make your sign easier to spot in a restaurant or bar with dim lighting.
3. Clear Focus
Every sign is designed to draw someone's attention, whether it's to a logo, a message, or an image. The way you design your frame insert will affect how effectively you draw a passerby's attention and convey your message.
One strategy you can use is leaving plenty of white space around whatever you want your potential customer to look at. When displaying a menu, for example, leave a wide margin around the edge of the paper or use a wider frame to help the content stand out. Keeping your sign simple, without a lot of distracting text or imagery, can also help viewers better understand your message.
4. Sturdy Framing
Once you've crafted an effective sign, you need to ensure that it stays visible and damage-free — the right frame can make all the difference. At Simple Snap Frame, we offer a number of options to help you find the perfect fit for your needs. Our snap frames are customizable, durable, and made in the U.S. with eco-friendly manufacturing practices. You can choose the style, color, and size of your framed display, and the design of our simple front-loading frames makes it easy to change your sign any time you need.
Explore our site to learn more about how our custom snap frames can boost business at your restaurant or bar, and call today for a quote on your next order! Simple Snap Frame offers a number of choices to meet your framing needs, from menu displays to LED snap frames that will make your sign truly shine, and our custom snap frames are available in any size you need. Upgrade your advertising, and contact us today to place your order!